CBD Muscle Review - Can It Help To Build Muscle And Retain Your Muscle Mass?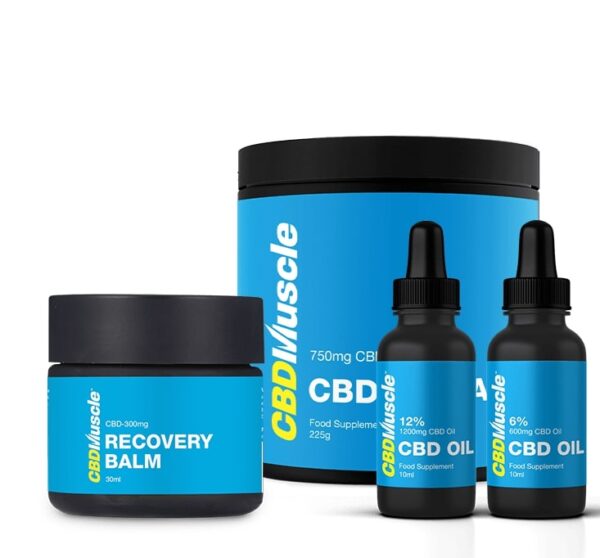 What Are CBD Muscle Products Used For Anyway?
The CBD Muscle brand consists of multiple strength CBD oils, a soothing after workout Recovery Balm, and a CBD + BCAA powder. They may help build and retain muscle mass by lowering your cortisol levels and improving your sleep.
Depending on the intensity of your workout, your muscles require time to recover. Not only that, it can relieve the painful muscle stiffness and soreness that always follows. CBD has shown signs of encouragement in the treatment of both depression and anxiety.
Will I Get "High" If I Use CBD Oil?
It is NOT possible to get high from using any of these products as they contain less than .03 % THC. 
The ingredients are entirely plant-based and provide you with muscle strength and the energy you need to get fit and recover for your next workout.   In other words, the pain in your muscles and joints will disappear, and your mobility (before and after) exercises will increase.
Can CBD Oil Be Used To Relieve Pain?
Researchers have agreed that CBD Oil has plenty of potential when it comes to reducing inflammation and helping with chronic pain.  
CBD Muscle products might be able to offer many people relief who are suffering from chronic pain.  If this is your situation don't hesitate to ask your doctor about getting some CBD.
Who Can Use CBD Products To Help In Their Recovery?
If you are an athlete, into fitness, or just workout regularly, these supplements can help you achieve your fitness goals in numerous ways.
CBD Oil can rev up your body's natural recovery time by helping your nerves, bones, and tissues recover.

It can reduce chronic inflammation and pain (before and after) exercise.

Lowers cortisol levels helping to alleviate stress and anxiety.

It reduces muscle spasms 

It enables you to sleep better.
Here is a study showing how CBD helps with the analgesic and anti-inflammatory activity in our body.
How To Use CBD For Muscle Recovery
You should place a drop of CBD oil under your tongue and wait a few seconds before swallowing.  You will begin to feel the difference in 15 minutes.
It can be used before your workout to prevent inflammation, or post-workout to treat muscle aches and soreness.
There are two strengths available, 6% and 12%.  Depending on your level of pain, the consensus is that you should start at the lowest concentration possible and then work your way up.
Ambassadors For The CBD Muscle Brand
Rob is a current 8x World Champion, a national England coach, and PT plus he's the current Peterborough Sportsman of the Year! Not only that, but Sensei Taylor is a former British Bodybuilding champion giving him a vast knowledge of training and nutrition.
Chris is a Supermoto champion, having come 1st place in the 2016 Novice Championship. He also placed third in the 2017 Clubman and most recently came 7th in the 2018 Michelin British Championship.
Do CBD Muscle Products Have Any Side Effects?
Some research has shown that there may be some side effects associated with CBD, including:
Nausea
Fatigue
Irritability
CBD Muscle products are for real!  A company called Wolfson Berg Limited manufactures it using purely organic ingredients in a well regulated WHO facility.
We would recommend the CBD Muscle Brand line of products to anyone interested in alleviating inflammation, muscle soreness, and pain relief. Plus, it's taking a lead role in the fight against anxiety and depression.
You can find the CBD Muscle products by visiting them at their Official Website.
https://www.ncbi.nlm.nih.gov/pubmed/19236260
https://www.ncbi.nlm.nih.gov/pubmed/10920191
https://www.ncbi.nlm.nih.gov/pmc/articles/PMC3371734/
https://www.ncbi.nlm.nih.gov/pubmed/3169967